Apple Strings Catalog Exporter is useful when you need to generate .xcstrings resource files for your application from your Crowdin project strings. This localization approach is often used when translating one application built for several platforms. For example, you can have an app for Android, iOS and Web platforms. Most of your strings are shared, but platforms can also have their own strings.
To implement this translation strategy with Crowdin, you need to upload your strings from all your platforms to the Crowdin project, then create Bundles and use exporters to build resource files for every platform.
Bundles can then be downloaded via Crowdin UI, API or even delivered to your consumers via Crowdin OTA.
When creating or configuring the bundle, you will find a gear icon next to the Apple Strings Catalog Exporter icon; click it to fine-tune the export options.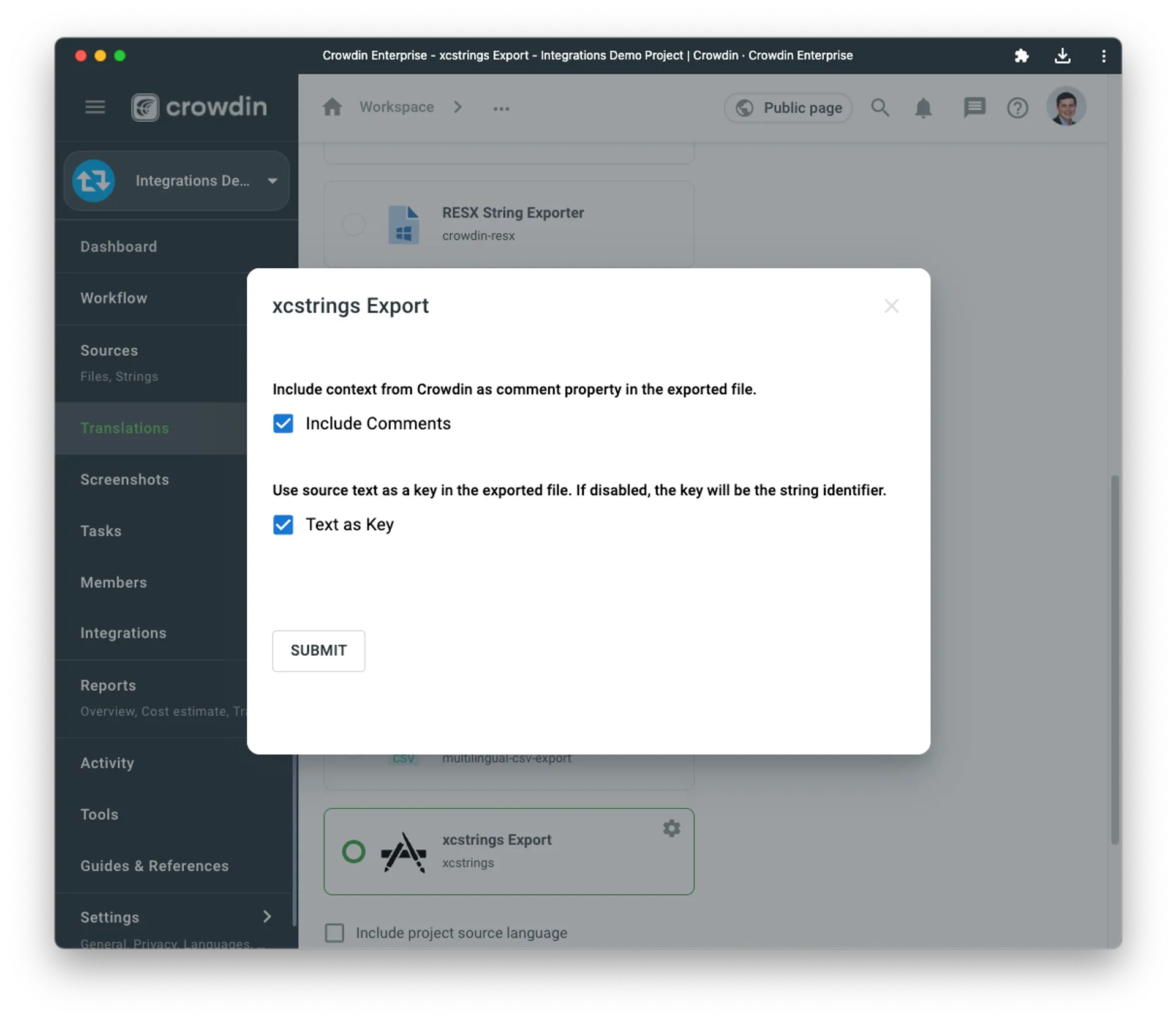 | Feature | Value |
| --- | --- |
| File Extension | .xcstrings |
| API Type | xcstrings |
| System | No |
| Supports pluralization | Yes |
| Configurable | Yes |
| Handles Crowdin Unified Placeholders | Yes |
{


  

"version"

:

 

"1.0"

,


  

"sourceLanguage"

:

 

"en"

,


  

"strings"

:

 

{


    

"identifier_1"

:

 

{


      

"localizations"

:

 

{


        

"de"

:

 

{


          

"stringUnit"

:

 

{


            

"state"

:

 

"needs_review"

,


            

"value"

:

 

"Zeichenkette für Übersetzung 1"


          

}


        

}

,


        

"pl"

:

 

{


          

"stringUnit"

:

 

{


            

"state"

:

 

"needs_review"

,


            

"value"

:

 

"Ciąg dla tłumaczenia 1"


          

}


        

}

,


        

"en"

:

 

{


          

"stringUnit"

:

 

{


            

"state"

:

 

"translated"

,


            

"value"

:

 

"String for translation 1"


          

}


        

}


      

}

,


      

"comment"

:

 

"identifier_1"


    

}

,


    

"apples_count"

:

 

{


      

"localizations"

:

 

{


        

"de"

:

 

{


          

"variations"

:

 

{


            

"plural"

:

 

{


              

"one"

:

 

{


                

"stringUnit"

:

 

{


                  

"state"

:

 

"needs_review"

,


                  

"value"

:

 

"%s Apfel"


                

}


              

}

,


              

"other"

:

 

{


                

"stringUnit"

:

 

{


                  

"state"

:

 

"needs_review"

,


                  

"value"

:

 

"%s Äpfel"


                

}


              

}


            

}


          

}


        

}

,


        

"pl"

:

 

{


          

"variations"

:

 

{


            

"plural"

:

 

{


              

"one"

:

 

{


                

"stringUnit"

:

 

{


                  

"state"

:

 

"needs_review"

,


                  

"value"

:

 

"%s jabłko"


                

}


              

}

,


              

"few"

:

 

{


                

"stringUnit"

:

 

{


                  

"state"

:

 

"needs_review"

,


                  

"value"

:

 

"%s Jabłka"


                

}


              

}

,


              

"many"

:

 

{


                

"stringUnit"

:

 

{


                  

"state"

:

 

"needs_review"

,


                  

"value"

:

 

"%s Jabłka"


                

}


              

}

,


              

"other"

:

 

{


                

"stringUnit"

:

 

{


                  

"state"

:

 

"needs_review"

,


                  

"value"

:

 

"%s Jabłka"


                

}


              

}


            

}


          

}


        

}

,


        

"en"

:

 

{


          

"variations"

:

 

{


            

"plural"

:

 

{


              

"one"

:

 

{


                

"stringUnit"

:

 

{


                  

"state"

:

 

"translated"

,


                  

"value"

:

 

"%s apple"


                

}


              

}

,


              

"other"

:

 

{


                

"stringUnit"

:

 

{


                  

"state"

:

 

"translated"

,


                  

"value"

:

 

"%s apples"


                

}


              

}


            

}


          

}


        

}


      

}

,


      

"comment"

:

 

"apples_count [one] [other]"


    

}


  

}




}